Camping and Tent information.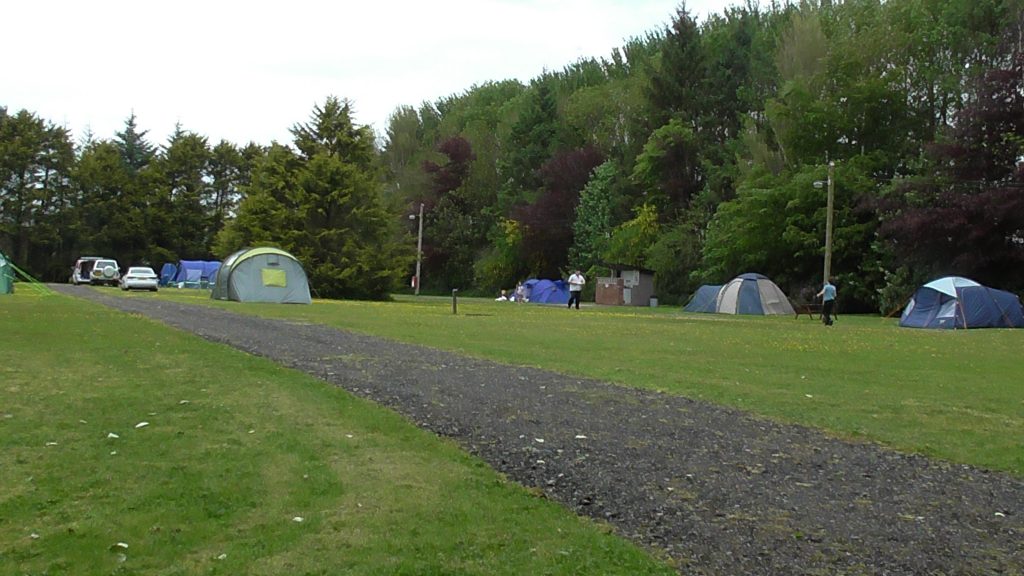 As we are a pure Touring orientated Caravan Park, all our facilities are designed around touring Caravan, Motorhomes and Tents. You are not an afterthought with us.
Our Camping area for tents is a large flat area surrounded  by trees that provide a good degree of shelter from all but the strongest of winds. It also makes the area a warm one when the sun is shining. Generally, depending on weather and ground conditions, the Camping area is available  from the end of April to the End of September.
If you want to camp, but don't have or want to use a tent, take a look at our new  Camping Barrels
General camping  rules are:-
No  closer than 16ft to any other tent or structure.
Do not use a pitch that another tent has just vacated.
Tents must move to a fresh pitch every 5 nights.
If you wish to use a fire pit/bucket, please check with reception first ( This is due to weather and potential fire risk ).
Cookers,  BBQ's, Fire pits/buckets  and hot pots  must be kept raised off the grass at all times to avoid scorching the grass.
Disposable BBQ's must not be used on any of the wooden benches.
In the camping area Fresh water is provided by 2 taps, one at ether end. The Camping area has its own Dishwashing building with waste bin available. The children's play area is also located in the camping area.
Cook House and Picnic area for campers.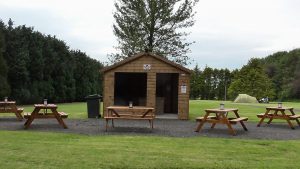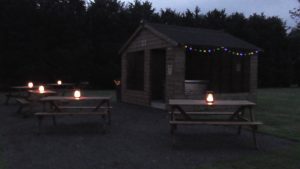 The Cook House  is lit by Solar power for Evening/|Night use.
It is located in a sheltered part of our Camping area.
Simple Cook House rules.
This hut is a covered area for cooking in.
No Sleeping or drying clothing in this area.
No hot ashes to be put in any bins.
Do not remove any benches from this area.
Please keep this area as clean as you would expect to find it.
Do not park cars within this area.
Please note we do not supply electricity to tents. There are no electric hook-ups available in the camping area.
We do not require a minimum  length of stay even in high season. If you require  a single night, you can  have it ( although we would recommend spending time in the area to enjoy  all it has to offer ).
If you are camping our Short Stay  Toilet and shower block is available for use. Details of this facility are available  HERE
We have a small laundry facility available on site. This is typically available April – October and is normally opened on request during these months. Details of this facility are available HERE.
To check availability or book a pitch, click HERE