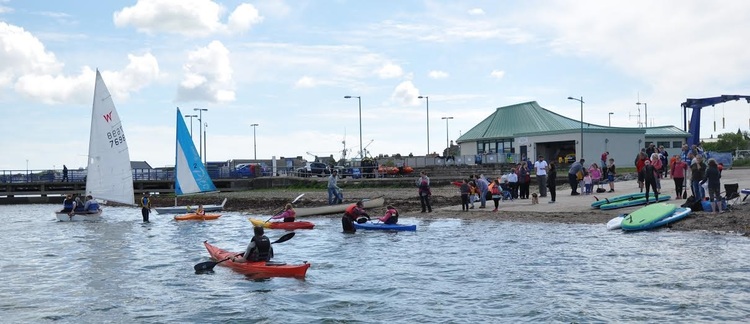 Water sports in our area
There are a number of ways to enjoy   the  waters around us.
( Information   via http://stranraerwatersports.com  )
SAILING:-
Think that blasting around the loch in a dinghy is for you? Then give Loch Ryan Sailing Club's website a visit simply by clicking here.
Loch Ryan Sailing Club (LRSC) is the local sailing club for Stranraer and surrounding areas. We welcome those completely new to sailing as well as those who have extensive sailing experience! The club can provide training, boat and equipment hire and safety cover amongst many other things!
Kayaking & Canoeing:-
Lochryan Kayaking and Canoeing Facebook page was set up in September 2015 to bring people together in this area who have an interest in Kayaking, this has been a great success, we have found that people had kayaks in their sheds and garages but had no one to paddle with and the facebook page has brought us all together. Working with SWSA we hope to increase Kayaking and Watersports within Lochryan and the surrounding area.
We now meet on a Thursday night at 18.30hrs at Stranraer slip (weather permitting) we practise a variety of different techniques and end the session with a paddle. We have 2 instructors in group and 1 person looking after safety. If you would like to join us you can find us on Facebook or contact:
Colin Brown
Tel: 01776 706261
Email: colinbrown2606@googlemail.com
Swimming:-
SAD MAD Swimmers
Stranraer And District (SAD) MAD swimmers are an informal open group of individuals who are into open water swimming. The group welcome people of all ages and swimming capabilities (within reason!) to come along and have a swim, or if they are feeling up for it – a race!
If you are interested in going along to their next organized swim then send them an email using the address below, or find them on facebook under "SAD, MAD, SWIMMERS".
Contact: ros.surtees26@gmail.com
Windsurfing:-
Is surfing over the water the thing for you? No Problem! There are lots of locations in and around Loch Ryan that offer surfing instruction for experienced / new kite & wind surfers.
Download the guide found here to find out more.
Still interested in Water sports ? Then drop an email to the following address: jack@nyro.co.uk
To check availability or book a pitch, click HERE